With Signage Rocket you can
Display
Display BEAUTIFUL & ENGAGING content on your screens in seconds with our super intuitive, data-driven apps. Forget about complex layout designers! With Signage Rocket no training or design skills are required.
Manage & monitor
Keep your network of screens running smoothly with our REAL-TIME device monitoring. Easily access device information, performance stats and remotely adjust your display's settings.
Deploy
Deploy your own data-driven HTML5 content to screens in seconds without wasting time or money on complex 3rd party INTEGRATION. Deploy your own HTML5 app to screens in just 60 seconds!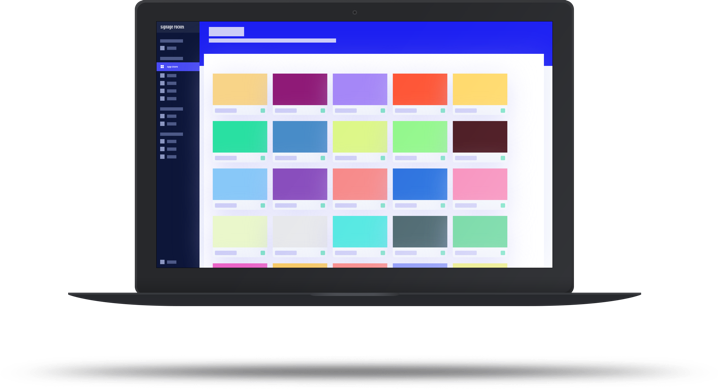 Rocket Manager
All-in-one, super-intuitive and easy to use cloud software that allows you to manage & monitor all your displays, assign content as well as deploy your own custom applications in seconds.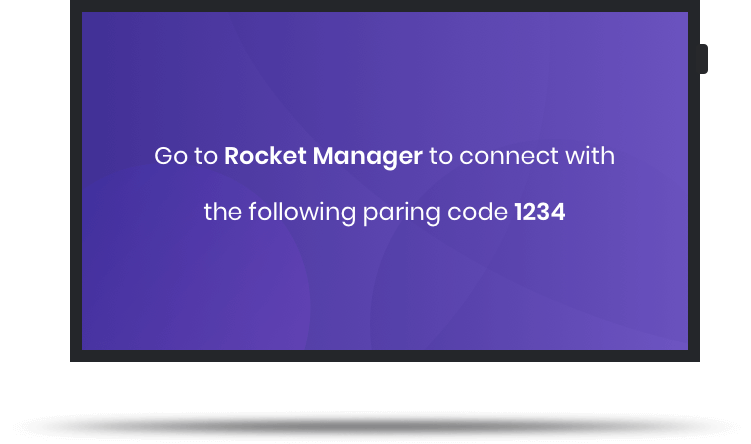 Rocket Player
Rocket Player is a cloud software that runs on your display and communicates with our Rocket Manager. It installs in seconds and remotely updates so you're always running its latest version.
Step1
Install Rocket Player
on your display
Step2
Pair your display
with Rocket Manager
Step3
Assign content / app
to the display
Built with the user in mind
Signage Rocket has been built with the user in mind, it eliminates all the complexity related to delivering content and managing multiple displays.
Real-time management
Easily monitor the status of all your devices & content, remotely adjust your screen settings. And when we say it's real-time, we mean it!
Data-driven
Signage Rocket platform is all about data. Our apps allow you to easily create engaging digital signage content by connecting to external services such as Twitter, Dropbox, Google and many more.
Large network management
The platform has been built with large networks of screens in mind. You can easily monitor & control unlimited number of displays remotely and in any location.
System on Chip
The platform runs on modern Smart Signage Displays with System-On-Chip (SOC). SOC is a smart solution that offers performance, space saving and energy efficiency.
Fast & infinitely scalable
Built with the latest, rock solid and the most performant technologies the platform is blazing fast & infinitely scalable. Signage Rocket gives you peace of mind that everything will always work as expected.
Up and running in seconds
Just register, verify your email address and you're logged in to your Signage Rocket account! Connect your display, choose your apps and that's it, your message is on the screen!
Secure
We take security very seriously. In addition to encryption and secure protocols that we use, all your data is stored in a highly secured data centers and the network architecture meets the requirements of the most security-sensitive organisations.
Fully automated
Signage Rocket is a fully automated platform, we will keep things up to date for you at no extra cost.
Supported devices
Signage Rocket is a device-agnostic platform and runs on smart displays with System On Chip. lt also supports BrightSign players, Windows as well Chrome browser.
Our videos
Find out what digital signage is, learn how to easily display engaging and dynamic content on your screens. Keep up to date with Signage Rocket new features and functionalities.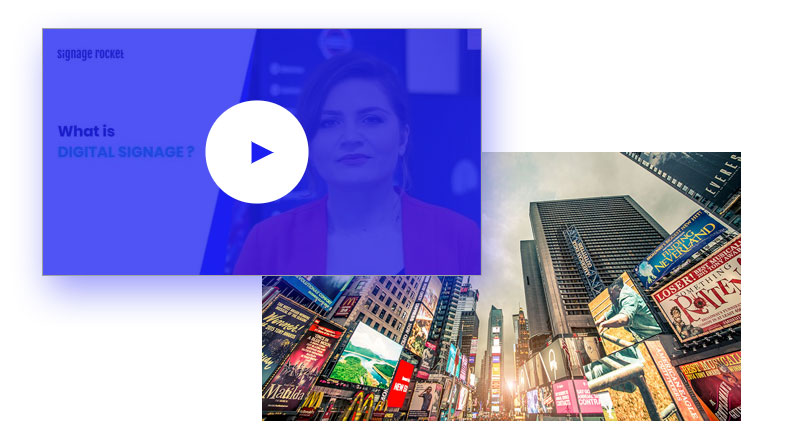 ONLINE DEMO
Request an online demo to get a customised guide through Signage Rocket.
Based on your needs we will highlight the features that are best for you, advise and answer any questions. If you'd like a custom digital signage solution, need help with 3rd party integration – we will assist with that too!
Additionally, we will happily extend your free trial.