Keep your network
of screens running smoothly
with Signage Rocket real-time device monitoring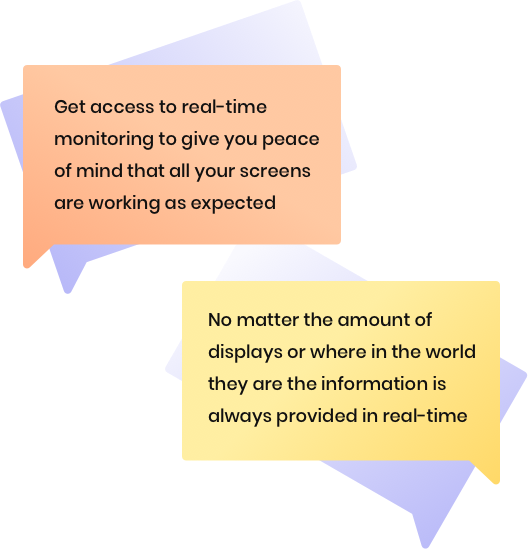 Real-time device
monitoring features
Device Details
Get accurate device details such as e.g. : screen model, operating system, browser type, resolution or firmware version.
Live status & proof of play
With the live screenshots you will be always 100% confident that your displays are online and are playing the right content.
Performance stats
Easily monitor your displays by accessing real-time information such as temperature, disk, RAM or CPU usage.
Network information
Get accurate information on your network and signal strength.
Brightness & volume control
Remotely adjust your screen's brightness and volume.
Display Orientation
Easily change screen orientation from landscape to portrait and the content will automatically adjust to the display.
ON/OFF TIMER
Save energy by remotely controlling your screen's sleep time.
Player Update
All the updates are carried out remotely with no downtime so you're always running the latest version of the software.
Device remote
management & monitoring
Learn more

webOS 4.0
webOS 3.2
webOS 3.0
webOS 2.0

Learn more
Learn more
Device details
Device type
Serial number
Manufacturer
Model
OS
Browser type
Browser version
Firmware version
Status
Connection
Proof of play
Usage
Temperature
Disk
RAM
CPU
Network
Network type
Network name
IP address
Network signal
Player
Player version
Remote update
Display
Orientation change
Brightness adjustment
Resolution
Content
Full screen content
Content assignment
App reload
Other
Volume adjustment
Device reboot
Remote control on/off
Timezones
Sleep schedule
Brochure
We are continuously adding new management and monitoring features and expanding the range of supported displays. The list of currently supported features is also available to download.
System on Chip
Displays
No media player required!
SoC makes it an All-In-One digital signage solution that lets you deliver content to your screen without the need of having an external media player plugged in to your display.